Ultra Micro Pulverizer
Low Temperature Ultra Fine Pulverizing Technology
Advancing Innovation by SIMEC.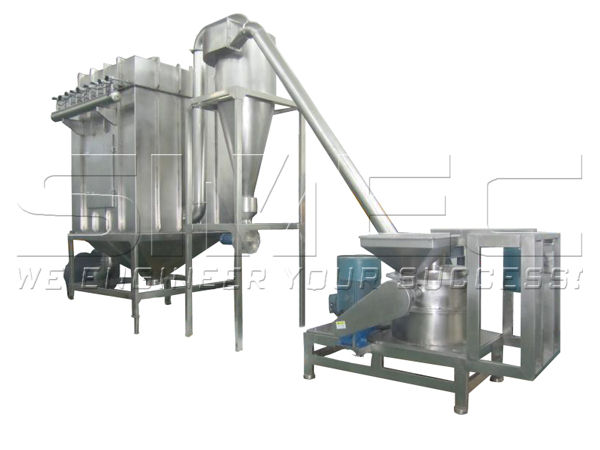 Ultra Fine Pulverizer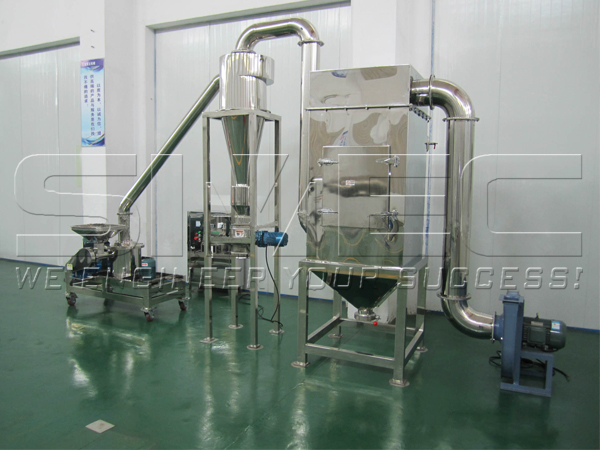 SIMEC Ceramic Ultra Fine Pulverizer
SIMEC innovative Ultra Fine Pulverizer is equipped with
pulverizing rotor & grading impeller made of corundum ceramics
, as a result, ultra fine pulverizing and particulate sorting can be completed simultaneously.
Corundum ceramics are characterized by high temperature resistance, corrosion resistance, wear resistance, and low density (about 1/2 of steel). It is proved that its
abrasion resistance is 1000 times
that of ordinary carbon steel.
Knives, teeth ring inside the pulverizing chamber are made of high wear-resistant corundum ceramics. The ceramic knives have a longer service life and better wear resistance than steel knives.
No metal contamination on powder material during pulverizing process
.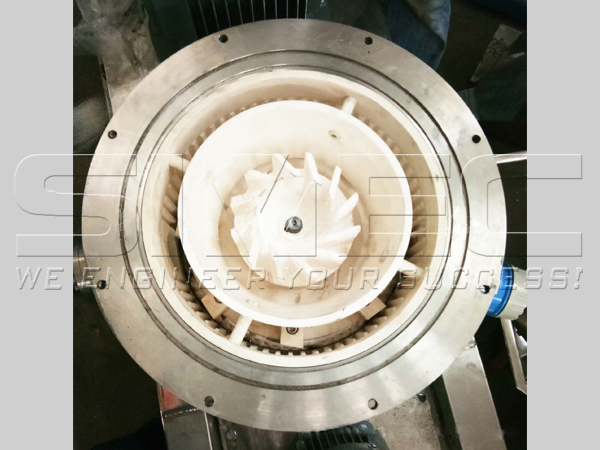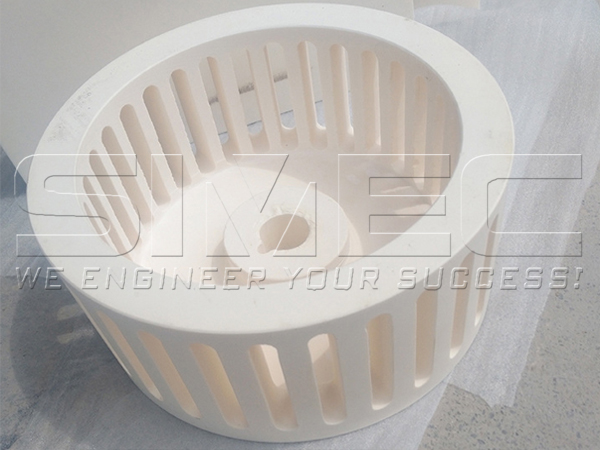 Other components are made of food grade SUS304 stainless steel.
SIMEC innovative pulverizer is equipped with
jacket water cooling
system on both machine casing and bearing seats, plus
air cooling system
.
The pulverizing process is at
low temperature
, so various
heat sensitive raw materials
can be pulverized.
Fineness of output powder can be adjusted within certain range
without stopping the machine
.
Temperature of Pulverized Material: keep the machine running continuously, the temperature of output powder is <50 °C.

Test Video of SCW15 Type:


Working Principle:
SIMEC innovative ultra fine pulverizer consists of material hopper & feeder, pulverizing main body, cyclone & airlock, pulse dust collector, fan, pipes, and electric control cabinet. Raw material is fed to pulverizing chamber by screw feeder, then pulverized by the unique pulverizing system at a high rotation speed. The initially pulverized material is sucked into grading chamber by negative pressure airflow.
Inside the grading chamber, qualified pulverized powder product is discharged, bigger particle size powder is recycled and back to pulverizing process. All fine dust is collected and recycled in pulse dust collector, which guarantees dust free production and minimum mass loss.
Since the application of frequency conversion controlling system on pulverizing rotor and grading impeller, fineness of output powder can be adjustable to suite specific demands.
Technical Parameter:
| | | | |
| --- | --- | --- | --- |
| Model | SCW15 | SCW30 | SCW60 |
| Capacity (kg/h) | 20~100 | 150~800 | 200~1000 |
| Feed Particle Size (mm) | <3 | <3 | <3 |
| Output Powder Fineness (mesh) | 150~1000 | 150~1000 | 150~1000 |
| Feeding Motor (kW) | 0.75 | 0.75 | 1.5 |
| Pulverizing Motor(kW) | 11 | 22 | 45 |
| Grading Motor(kW) | 0.75 | 4 | 5.5 |
| Discharge Motor(kW) | 0.75 | 0.75 | 1.5 |
| Dust Collector Motor(kW) | 4 | 18.5 | 22 |
| RPM (rpm) | 0~5500 | 0~3800 | 0~2800 |

SIMEC latest ultra fine pulverizing technology is developed based on last generation product described below. The information is for reference, but the SP-C series pulverizers will not be recommended to customers.
---
Last Generation Product
SP-C Series Pulverizers:

I. Introduction:
Ultra Micro Pulverizer is able to 100% pulverize diverse kinds of grains and biomass material to 10-200 mesh final products. The advanced processing technology and stable operation enable the 100% yield. The SP-C650 pulverizer can fine grind the wheat, bran, buckwheat, grist, potato chips, cacao beans, carob pods, milk powder, lotus seeds, starch, maize, millet, sticky rice, soybean, mung bean, dextrin, glucose, dehydrated vegetable, Hawthron, pumpkin powder, shell, bone meal, puffed grain, charcoal, wood chips, palm kernel shells, coconut shells and other raw materials. The machine is widely used in food manufacturing plant and biomass process plant such as dairy product factory, mixed grain processing plant, flour plant, food additive factory etc.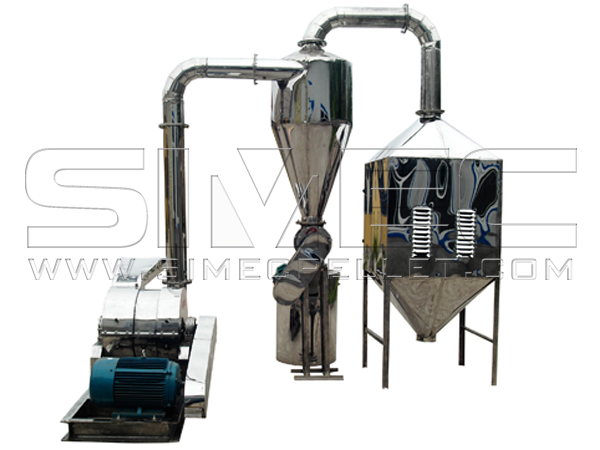 Whole Grain Ultra Micro Pulverizer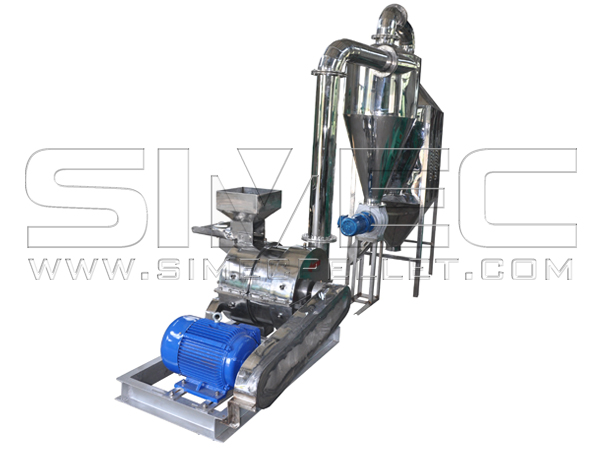 Ultra Micro Pulverizer
II. Features:
The machine has the following characters: less occupied area, easy and stable operation, corrosion resistance, compact design, reasonable process structure, low noise and energy consumption, simple maintenance, long service life etc.
Being adopted in double-grinding technology and non-screen design, one-time powder output, mesh adjusting, uniform size of final products, non-residue, 100% processing is available.
Totally enclosed and dust-free pulverizing chamber prevent the outside contamination to the raw materials, which improves the operation condition, minimize the microbes of the final products.
pulverizer process the raw material characterized with strong toughness, high fiber content, agglomerates, high moisture content, it also can grind the the sugary, viscous and chemical raw materials.
Installed with the air cooling system, cooling to the grinding chamber and continuous production is available. The low working temperature in the grinding chamber can keep the natural quality of the final product, prevent the uneven color and poor lustrousness of the output raw materials, and improve the grinding efficiency.
Reasonable design and polishing against the outside and inner machine enable the residue-free, no dead end, no blockage, easy clean in the grinding chamber.
Configured with auto classing system, high precision classification and 100% ultra micro powder is available.
Adopted with the high strength anti-wear components, grinding to the raw materials with high hardness and high purity has little effect on the wear of the machine, which minimize the maintenance frequency and length the service life.
Raw materials with different nature, different proportion, different size can be ultra ground directly.
The machine meets the requirement of integrated grinding, it can mixed grinding or separate grinding and the rate of grinding is high.
The performance of this kind of pulverizer is better than any other ones, like jet mill, hammer mill, grinding miller etc.
Ultra Micro Pulverizer Test Run
III. Main Technique Parameters:
Model
SP-C450
SP-C550
SP-C650
SP-C750
Fineness
10-200 Mesh
60-200 Mesh
60-200 Mesh
60-200 Mesh
Power(KW)
7.5-11kw
11-15kw
15-22kw
22-30kw
Rotate Speed
3200r/min
3600r/min
3600r/min
3200r/min
Dimension(m)
3.0*1.45*2.8
3.2*1.55*2.8
3.4*1.65*3.0
3.6*1.75*3.0
Weight(kg)
800kg
1000kg
1200kg
1500kg
Remarks: The moisture of materials to be grinded is no limited, one-time powder output the product that contains sugar, oil, glue or other unbreakable materials.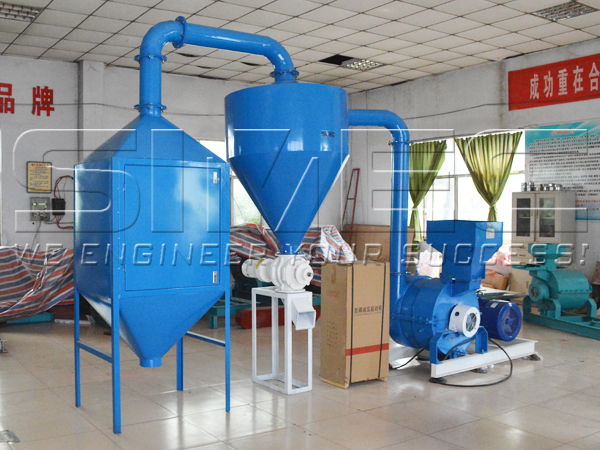 Front View of Ultra Micro Pulverizer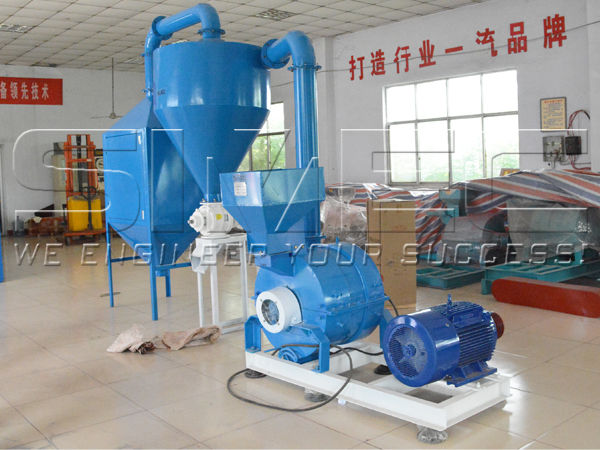 Side View of Ultra Micro Pulverizer
Please download the instruction of
Ultra Micro Pulverizer
to know more detail information.
---
© Copyright of articles and pictures on this site belongs to SIMEC. Any company, media, website or individual are not allowed to reprint, reproduce, repost, modify or use in other ways without permission. Otherwise SIMEC will have the right to pursue legal responsibilities.