SPM420 Biomass Pellet Mill
Introduction:
SPM series high-grade pellet mill is the main item of equipment for producing wood pellet with application to large and medium scale wood pellet plant.
The machine features compact structure, fine appearance, low noise, high output with low power consumption, it is convenient in operation and reliable in performance.
The machine can be fitted with dies of Ø6 or Ø8 hole diameter, which can be chosen by user according to requirements.
The machine adopts frequency conversion speed-adjusting motor for feeder and LLL large door conditioner access, with axial liquid addition.
Feeder is fitted with strong magnetic safety device, press overload protection device and external discharging mechanism.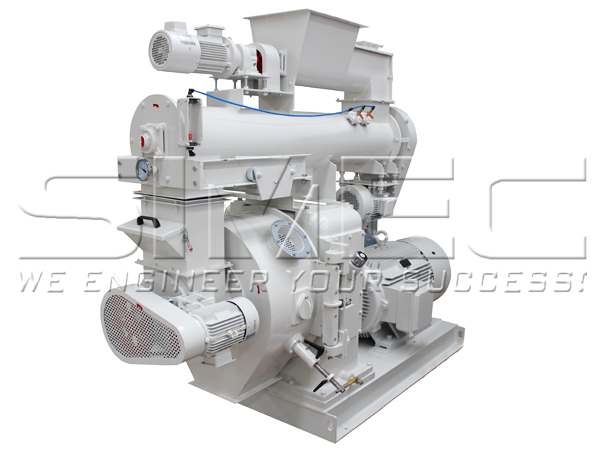 SPM420 Biomass Pellet Mill
Parameters:
No.
Model
SPM420
1
Output
0.8-1.2t/h

2

Power
Main Motor
90/110KW
Screw feeder
1.5KW
Conditioner
3KW
Force feeder
1.5 KW
3
Die ID
Ф420mm
4
Effective Width of Die
83/93mm
5
Die Rotational Speed
138rpm
6
Feeder Rotational Speed
12-90rpm
7
Pellet Specification
Ф6~Ф12mm
8
Roller Number
2
9
Roller OD
Ф206mm
10
Pellet Shaping Rate
≥95%
11
Pellet Powdering Rate
≤10%
12
Pellet Stability in Water
≥20min
13
Noise
≤70dB(A)
14
Working Temperature of Die
≤165 C
15
Overall Dimension

2777×1387×2028mm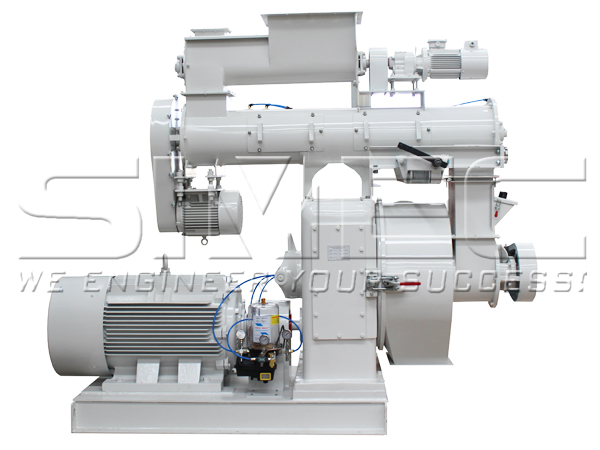 SPM420 Wood Pellet Mill
Equipment Characteristics:
1. Automatic Lubrication system
2. Ring Die Lifting Installation System
SPM420 has ring die lifting installation system, the system can realize the automatic installation of ring dies. A removable steel frame is fixed at the bottom of the conditioner, steel wire convolve on it can tie on a ring die and lift it to the proper position.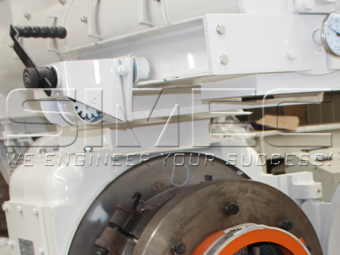 3. Integrated Main Shaft
SPM series pellet mill adopts the technology of integrated main shaft. The roller support rods are forged together with main shaft. So it avoids any vibration fundamentally. The material has also been improved to be 40CrMn. Both of the performance and life span is guaranteed. Benefits of this design can be known at the blog of INNOVATION OF SPM520 WOOD PELLET MILL.
4. Water Adding System
At conditioner there is a water pipe, it can add water into the raw material to adjust the moisture to the proper content for better pelletizing. The pipe is connected on a dial gauge that shows the volume of water, making it easy to be detected and controlled.