Automatic Rotary Charcoal Furnace
Position:
Managing Director
Oct 21, 2019
SIMEC Rotary Charcoal Furnace adopts Anaerobic Destructive Distillation technology. It is designed for continuous pyrolysis carbonization. Our technology benefits industrial production of charcoal.
Biomass Charcoal is the main product of pyrolysis carbonization. Meanwhile, there're also three byproducts, namely Combustible Gas, Pyroligneous Acid and Tar.
All the products of pyrolysis carbonization have a wide range of uses.
Comparing with biomass raw material,
Biomass Charcoal
is stable, non-toxic. Its combustion does not produce a large amount of flue gas. And charcoal is not easy to degrade in nature. So charcoal is more convenient for transportation, storage and use. Charcoal can be used as clean solid fuel to replace coal. Charcoal can also be used for metal smelting, manufacture of activated carbon, carburant, carbon disulfide, gunpowder, solid lubricant, electrode carbon, feed additives, art & craft work, etc. Besides, charcoal can also be used as a soil amendment to improve soil fertility, regulate soil pH and increase crop yield.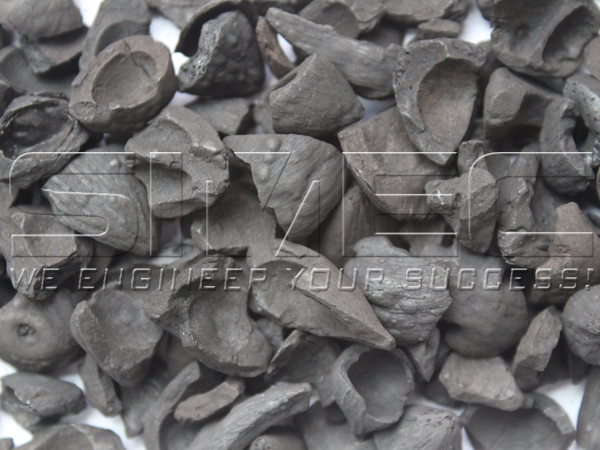 Carbonized Palm Kernel Shell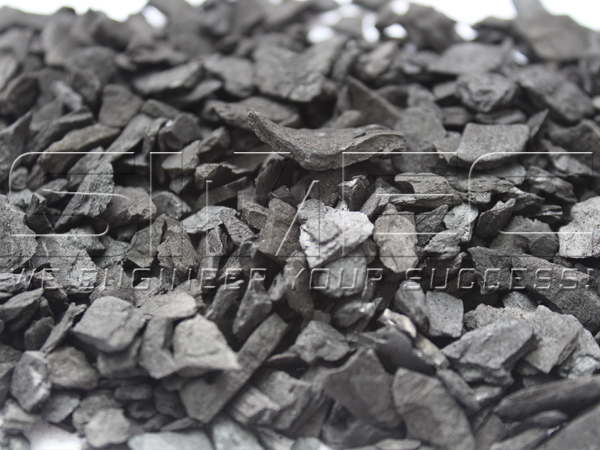 Carbonized Coconut Shell

Test Result of Biomass Charcoal:
| | | | | | | |
| --- | --- | --- | --- | --- | --- | --- |
| Raw Material Species | Coconut shell | Almond shell | Mixed wood | Eucalyptus | Edible fungi residues | Corn cob |
| Moisture % | 0.78 | 0.8 | 0.68 | 0.26 | 1 | 2.54 |
| Ash % | 2.11 | 5.74 | 4.64 | 6.55 | 26.34 | 15.67 |
| Volatiles % | 7.30 | 4.21 | 8.53 | 1.91 | 9.76 | 4.54 |
| Carbon % | 89.81 | 88.52 | 86.15 | 91.28 | 62.9 | 77.25 |
| Calorific value KCal | 8064 | 7539 | 7810 | 7529 | 5756 | 6531 |
Pyroligneous Acid
, also called wood vinegar or wood acid, is a dark liquid produced by the destructive distillation of wood and other plant materials. Pyroligneous acid can be used for the preparation of acetic acid, acetate and other chemicals, which have a certain purpose in agriculture, livestock breeding, skin care beauty, health care and other fields.
Tar
can be used for processing creosote, binder and other products, being used in synthetic rubber, chemical, pharmaceutical and other industries.
In order to improve the economics of the pyrolysis system, SIMEC biomass pyrolysis carbonization technology is based on the cogeneration of carbon-gas or carbon-liquid-gas. At the same time, the production of biomass charcoal is combined with high grade gas or high added value liquid by-products.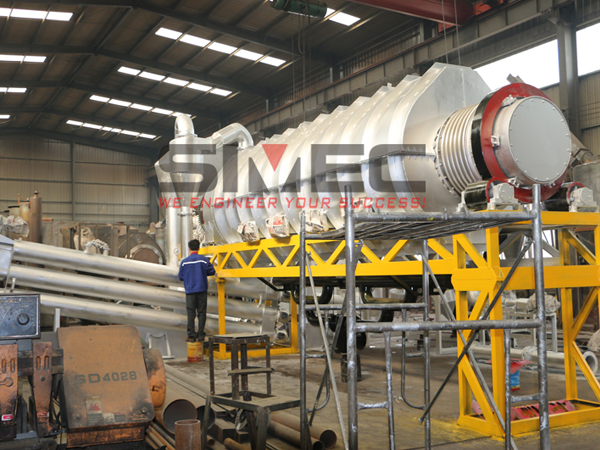 Automatic Rotary Charcoal Furnace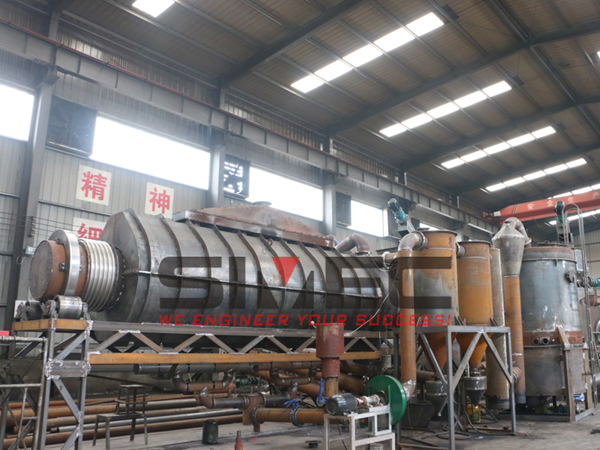 Gas Purifying System
Combustible Gas
consists of methane (CH4), ethylene, carbon monoxide (CO
1
), etc. being generated by pyrolysis carbonization. It can be recycled and purified to be qualified fuel for gas burners which provide heat for charcoal furnace.
Extra combustible gas can be used to generate electricity power through power generation unit. SIMEC is working on the R&D of compact power generation system which is capable enough to provide electricity for pyrolysis carbonization system. So the scope of charcoal project location will be expanded. As long as the location is close to raw material and road, then it'll be suitable to build a charcoal factory. No need to consider power supply from state grid, no need to pay for electric power.
With the combustion of combustible gas, high temperature flue gas can be recycled to dry green raw material which has a very high moisture content. Feedstock of charcoal furnace needs to have moisture 15%-20% or less to guarantee carbonization efficiency. SIMEC has waste heat recovery technology for biomass drying purpose.
Generally speaking, SIMEC pyrolysis carbonization technology is developed to maximize the value of biomass raw material. Automatic Rotary Charcoal Furnace is absolute environment friendly equipment, energy-saving and free-emission.
Test Run Video of Rotary Charcoal Furnace:
SIMEC automatic rotary charcoal furnace is complete carbonization plant to process the biomass raw materials, such as sawdust, PKS (palm kernel shell), coconut shell, chicken litter, rice husk, peanut shell, crop stalk, log bark, sunflower shell etc, to be CHARCOAL with high fixed carbon via anaerobic destructive distillation.

Working Principle:
The whole system consists of biomass gasifier, gas purifier, fan, burners, carbonization furnace, etc. This equipment is adopted with dry distillation carbonization technology. The combustible gas, carbon monoxide, methane, hydrogen, generated during the carbonization is purified by the gas purifier, from which wood tar and pyroligneous acid as the by products are separated. The complete combustible gas heats up the carbonizing furnace through the self-air distribution burners.

Requirement on Biomass Raw Material:
size less than 25mm, moisture content less than 15%-20%
No.
Item
Model
Qtty
Power KW
Remarks
Gasification System
101
Screw feeder
1
3
Feed raw material to gasifier
102
Gasifier
Φ150*3M
1 set
1.5
Φ150
103
Ash discharger
1 set
1.5
With water cooling jacket
104
Smoke & Dust Cleaning Equipment
Φ450
1 set
105
Condenser
Φ650*2
1 unit
106
Tar separator
1 set
107
Fan
#5
1 set
15
108
Connection pipes & valves
1 unit
109
Water tank
1 set
Carbonization System
201
Material feeder
500x5m
1 set
3
Remarks
202
Rotary Charcoal Furnace
φ1.2/1.8x11m
1 set
7.5
Double layer design, outer layer being made of SS310 stainless steel
203
Gas burner
22sets
Self-air distribution burners
204
Gas distributor
1 unit
205
Valves
3 sets
206
Charcoal cooling discharger
Φ325x6m
1 set
3
Screw type, triple layers
207
Syngas collection device
1 unit
208
Control cabinet
1 set
TOTAL POWER
34.5 KW
CAPACITY
500-1000 KG/Hour Biomass Charcoal
Features:
Simple operation and maintenance;
Energy saving with combustible gas recycling system;
Environmental friendly operation with flue gas recycling system;
High carbonization rate with reasonable reactor design;
Equipment safety design prevents the deformation of the pipes and drum caused by the thermal expansion;
Water cooling & discharging system enables good quality and low temperature of biomass charcoal which can be bagged continuously straight away.
Photos:

Carbonization Plant Installation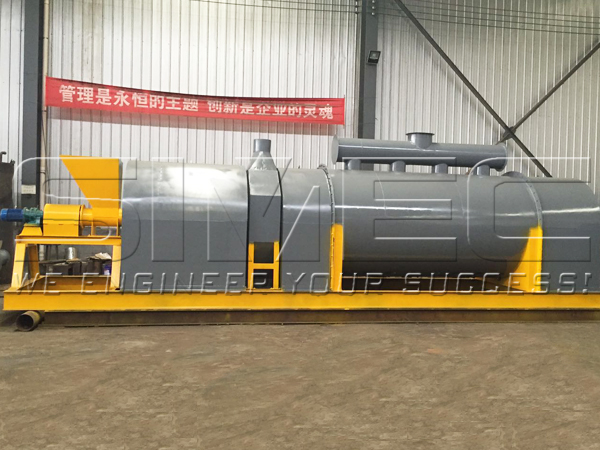 Carbonization Reactor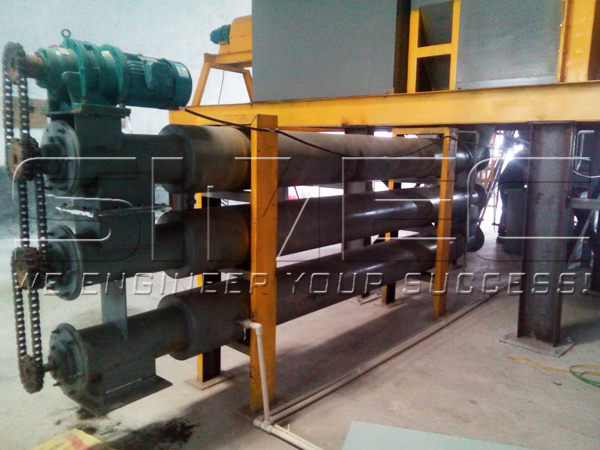 Cooling Discharger