Pellet Mill
SIMEC pellet mills are professional machine for biomass pellet based on the years of R&D by our engineers team. This machine is equipped with high quality die and rollers and has advanced technology. For driving system we use double motor V-belt, which is of little space occupation, uniform stress, simple structure and easy operation. Users can change motor and die to meet the needs of different production capacities and specs, thereby obtains ideal technology and economy effect.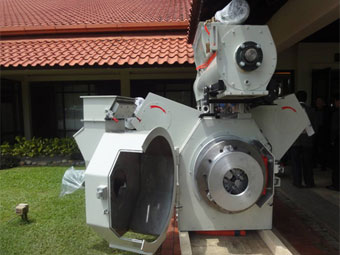 Full view of pelletizing chamber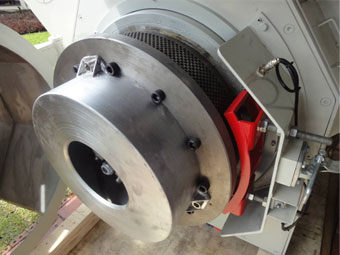 Pelletizing assembly
Rollers-die gap adjust system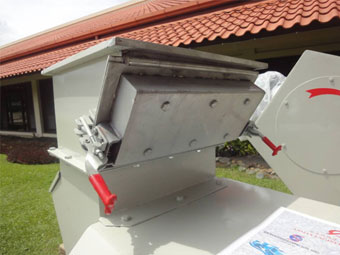 Magnetic separator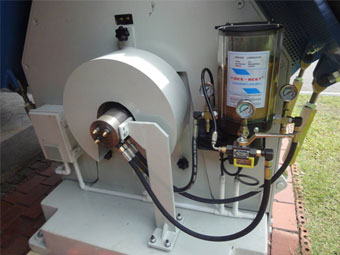 Automatic lubrication system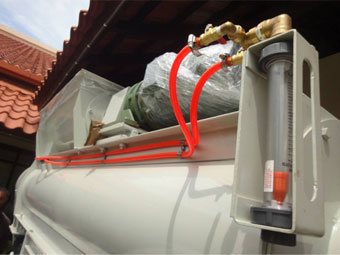 Moisture adjust device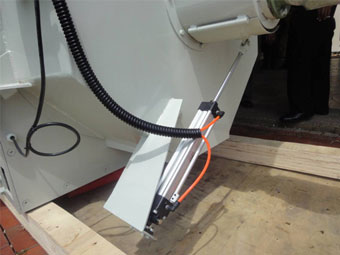 Overload discharger during pelletizing process. It starts to work automatically.
We provide five types of ring die pellet mills to make wood pellets from different kinds of wood raw material and other biomass.
SPM series pellet mills have the specific design to pelletize hardwood sawdust. The capacity is less than making pellets from pinewood sawdust.
More information and details are included in the following proposal.
SPM520, SPM650, SPM800 Technical data
Pellet mill type

SPM520

SPM650

SPM800

Ring die

Inside diameter mm

520

650

800

Capacity T/H

1.5~2.0

2.5~3.0

3.5~4.5

Roller

Quantity

2

2

2

Diameter mm

238

295

380

Main motor

Power Kw

75Kw*2

110Kw*2

135Kw*2

Conditioner

Motor power Kw

5.5

7.5

11

Screw feeder

Motor power Kw
Frequency Conversion

2.2

3

5.5

SPM belt drive pellet mills are designed to make pellets from various kinds of wood species,both tropical hardwood sawdust and softwood sawdust,such as bangkirai,meranti,jadi,teak,cruing,rubberwood,parawood,pinewood,oak,fir,etc.


Composition:
The machine is mainly composed of three main sections, namely feeder, conditioner and the main set of pellet mill. The main set of pellet mill is made of such components as machine body, machine shell, main shaft assembly, quill main shaft assembly, die, roller assembly, cutting knife assembly, main motor driving system etc.
Structure characteristics
The die is made of excellent quality high-chromium stainless alloy steel forge piece. Through precision finishing and vacuum heat treatment, the die meshes get high finish degree and long using life.
The base of the whole machine is found of high strength cast iron, which ensures safe, stainable and reliable operation.
The main shaft is forged by alloy construction steel 40Cr. It is of good strength and toughness.
Cast steel ZG35 CrMo quill main shaft with the flywheel effect of the big pulley keep pelletization balanced, with low noise and nearly free from vibration.
The feeder, conditioner and pellet chamber are all made of stainless steel.
The independent cutting knife unit adopts tipped tool structure and has long using life. It can also adopt rotational flake knife structure with smooth kerf.
The machine shell is fixed by bolts which give convenience to installation, disassembly and maintenance.
Through lubrication tube, the roller can be well lubricated during operation.
Die lifting rig is optional for pellet mill according to your demand.
Each of the three main sections of the whole machine can be ordered separately.
Rubbish Densified Fuel
From Waste To Wealth!
SIMEC Pelletizing Solution To Utilize The Rubbish!
SPM350,SPM420 Wood Pellet Mill Technical data
Pellet mill type

SPM350

SPM420

Ring die

Inside diameter mm

350

420

Capacity T/H

0.5

1.0

Roller

Quantity

2

2

Main motor

Power Kw

55Kw

90Kw

Conditioner

Motor power Kw

3

5.5

Screw feeder

Motor power Kw
Frequency Conversion

0.75

1.5

SPM350 gear drive designed to make pellets from pinewood sawdust, oil palm material such as Empty Fruit Bunch(EFB), mesocarp fibre,etc. The raw mateiral is available in large quantity.
SPM420 gearbox drive designed to make pellets from softwood sawdust and EFB.
The driving gear adopts the high precision gear transmission structure. The ring die adopts the hoop fastening method.
The bio-pellet mill is equipped with auto lubrication system.
To reducing the abrasion of wearing parts, improving the efficiency of working, reducing the damage and avoiding efficacy losing of machine parts caused by less lubrication, SIMEC adopts automatic lubrication system in order to extend the maximum life span of the pellet mills. The main shaft bearings and double roller bearings will be lubricated by the system.
Our ring die is made of 4Cr13 alloyed stainless steel. Our carburizing treatment makes the depth of hard layer to be 2mm. The anti-abrasion ability of ring dies and rollers is improved more then 10 times, comparing with ordinary technology.