Investigation and Research of Palm EFB Pellet Project in Malaysia
Position:
Project Sales Director
Mar 16, 2018
Before Chinese New Year, SIMEC expert team was invited by Malaysian client to investigate a halted-production palm EFB pellet project to analyse its failure reasons and design other brand new palm EFB pellet projects in other locations. Actually, we have heard about this palm EFB pellet plant about 5 years ago. This project is pretty famous among insiders, it's a governmental project which was jointly constructed by national companies of Malaysia and Japan.
Driving across an extensive plantation of palm oil trees, we arrive in the destination, the famous Crude Palm Oil Mill (CPOM) and Palm EFB Pellet Plant which is surrounded by a sea of palm oil trees.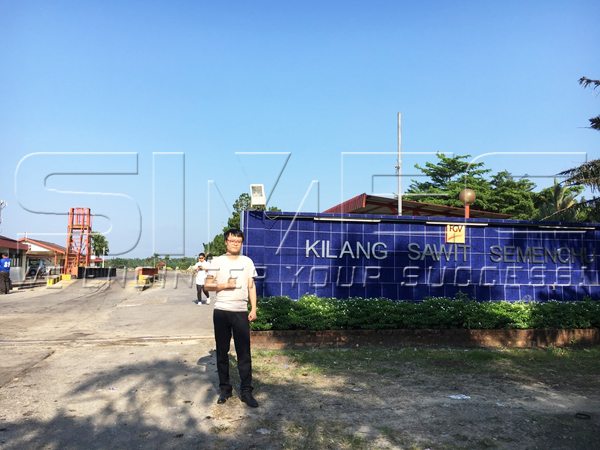 Crude Palm Oil Mill in Malaysia
Palm EFB Pellet Plant
According to the introduction of general manager of the CPOM and Palm EFB pellet plant, the CPOM runs well but the pellet plant is out of production since several years ago due to its high running costs and low rate of return on investment. In order to process the plenty of palm EFB into short fibers for sale directly, only palm EFB pressing machine and EFB shredding/crushing machine of the EFB pellet plant are at work by now.
As a pilot palm EFB pellet plant at local, its success and failure is brought into focus widely. Of course it arouses our interests when we received invitation in the beginning. We'd love to share some views of us and possible failure reasons about this palm EFB pellet plant after a factory tour.
When we saw its building at first glance, we found its layout and processes of the entire plant adopt Animal Feed Pelletizing Technology, but not for processing biomass materials. Its layout of machines is similar to an Animal Feed Mill, adopting building structure with several floors. The process flow is similar but wrong technology was adopted.

Fresh palm EFB will be conveyed and lifted onto the top floor for pressing and separating water firstly. Then, raw material falls down to the next floor for shredding and crushing. After collected at the bottom floor, the crushed palm EFB fiber is blown up to the top floor again by hot air flows which generated by hot air stove and conveyed by several blowers. During hot airflow conveying process, the palm EFB fiber will be dried at the same time. Then, dried palm EFB fiber falls down to the floor of pelletizer and next to the floor of cooler & sifter.

Palm EFB Feeding Port and Conveyor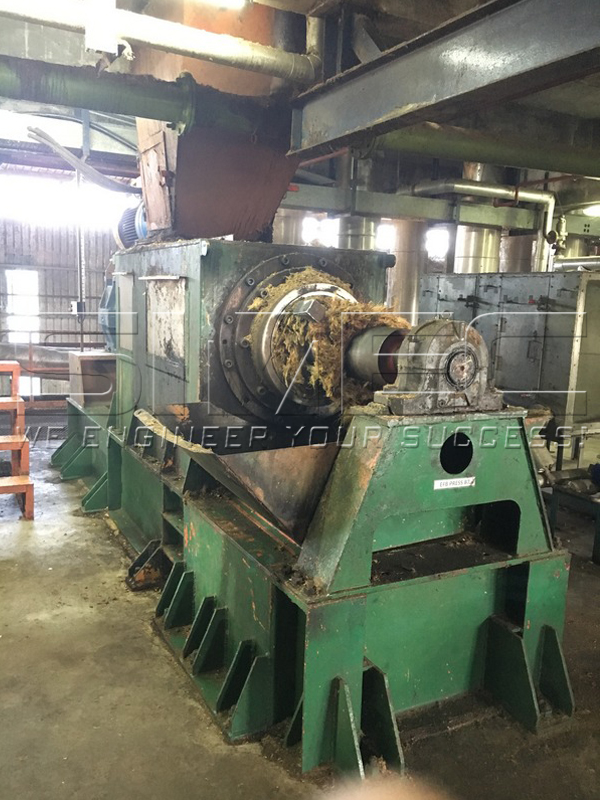 Palm EFB Press on Site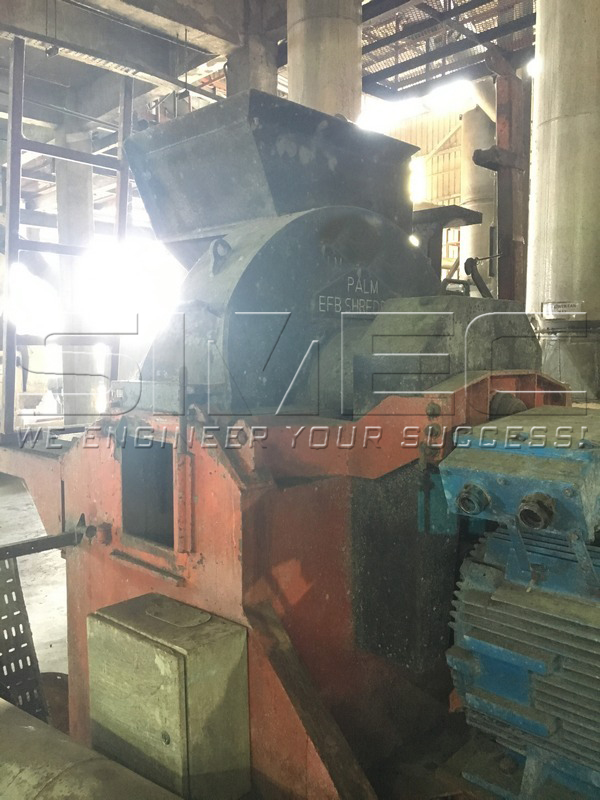 Malaysian Former Palm EFB Shredder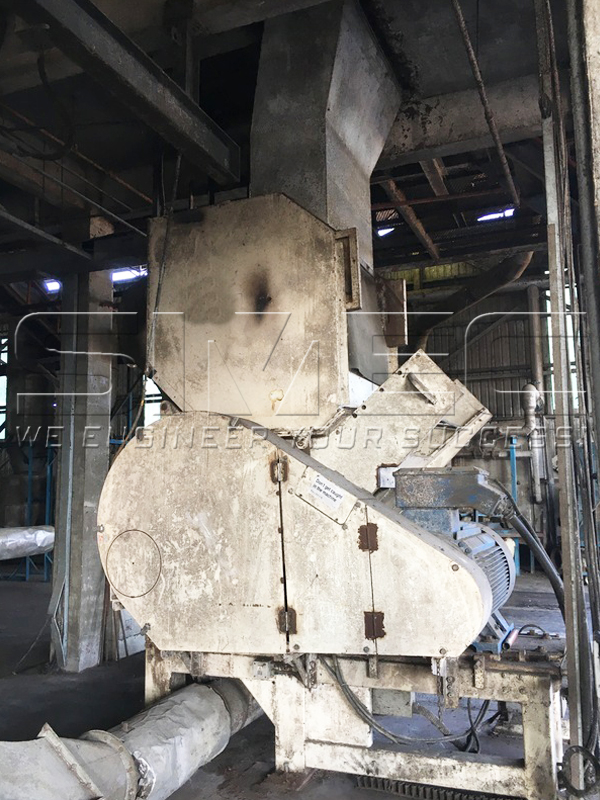 Malaysian Former Palm EFB Crusher
Obviously, this design of building structure leads to the huge energy consumption required for the drying process and material conveying system. To ensure conveying height and drying capacity, the plant adopts 4 sets of powerful centrifugal blowers, while in SIMEC Palm EFB Pellet Project, only one set of blower is required to reach the similar process capacity.
And another disadvantage of its process is that it adopts Airflow Drying System whose performance is hardly to control and drying efficiency is lower than Rotary Drum Dryer. The output heat of hot air stove is able to be controlled in a certain range, but it's hardly to control the process drying temperature by adjusting the hot air stove directly. Because there is a sluggish of temperature output after speed up/down fuel feeding of hot air stove. And also, due to long distance conveying and high speed of air flow, there is a various of thermal loss in air pipes where doesn't adopt any thermal insulating measure as well. It's a waste of electricity and stove fuel.
Above factors influence the temperature adjustment mechanism mostly and drying efficiency. SIMEC adopts
Rotary Drum Drying system
which performs better in these factors mentioned above. First of all, our drum dryer adopts quality thermal insulating layers whose thickness reaches 40mm. It avoids thermal loss during drying process, lowers stove fuel consumption and increases drying efficiency extremely. And our drum dryer adopts 4 sets of frequency control driven motors. We can adjust its rotary speed of drum to control retention time of Palm EFB fiber in the drum dryer, accordingly control the output moisture of palm EFB fiber easily. Matching with instant moisture sensor of dried palm EFB fiber, the operator knows clearly how to adjust rotary speed of drum in a certain range.
Another possible reason of failure is the technology and structure of its pellet mills. Firstly, we found its Ring Die Hole configuration follows design of Feed Pellet Mill. The holes reach to the flanger of ring die. But for biomass materials, the ring die holes are usually gathered in the central band to increase the pressure of pelletizing process. Please compared with below pictures and you can find the difference.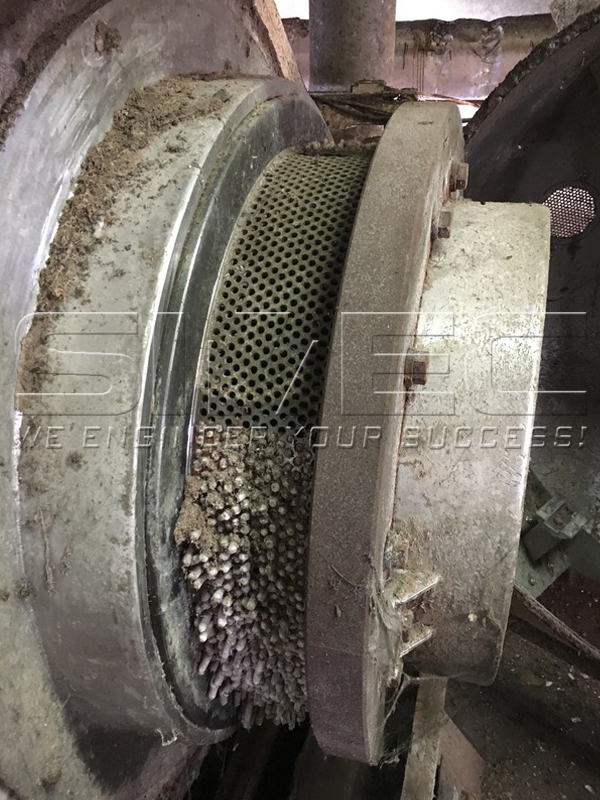 Palm EFB Pellet Machine Ring Die on Site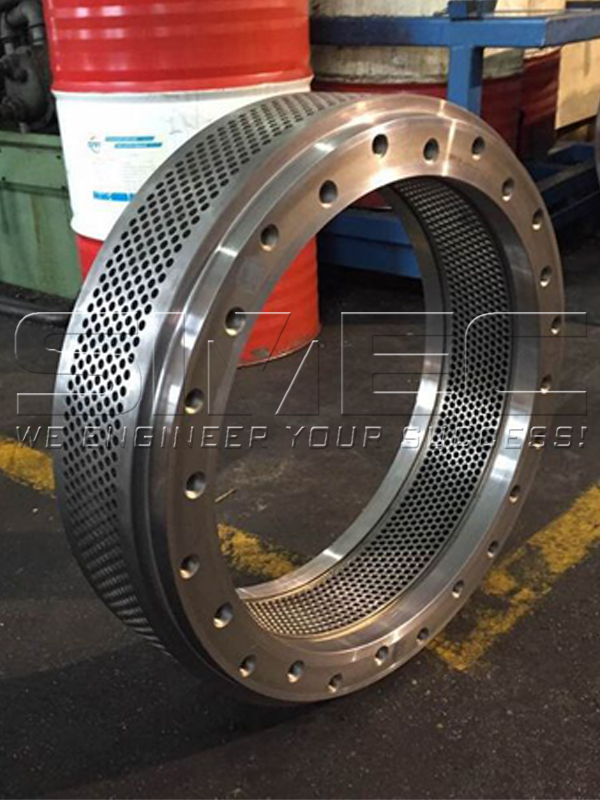 SIMEC Ring Die for Processing Materials
In the same way, the raw materials of compression roller support bars are different with pellet mill designed for biomass materials. And also, there is no force feeding device which is used to feed fluffy biomass materials into pelletizing chamber efficiently.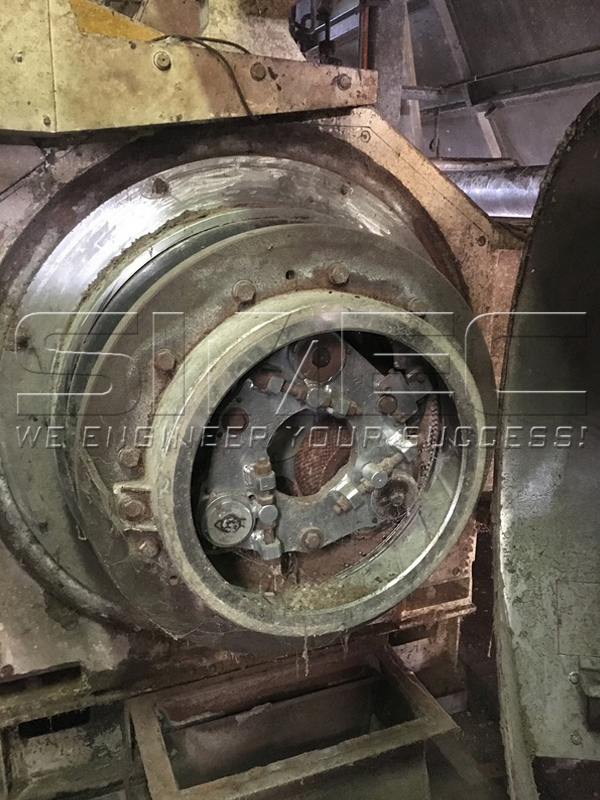 Palm EFB Machine Roller and Shaft on Site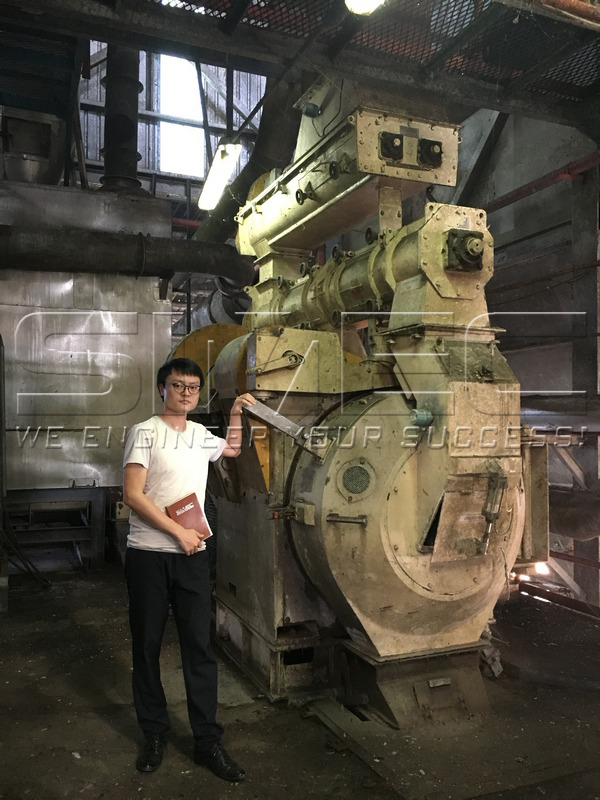 Palm EFB Pellet Machine on Site
There is also a key factor of failure we found is that the feeding size of palm EFB fiber into pellet mill is bigger than expected. Their shredder and crusher are not able to pulverize EFB fibers into right size which is required to produce 6mm palm EFB pellets (the diameter of ring die on site is 6mm which is not common of palm EFB pellets). According to the requirements from pellet buyers, we recommend to make palm EFB pellets in diameter of 8mm,10mm or 12mm.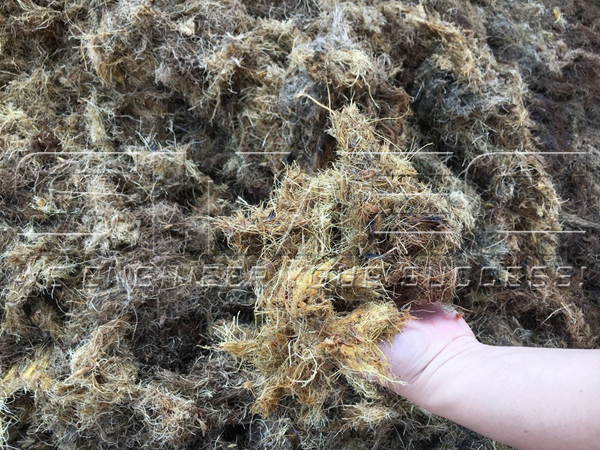 Size of Palm EFB Fiber after Shredding, Crushing and Drying on Site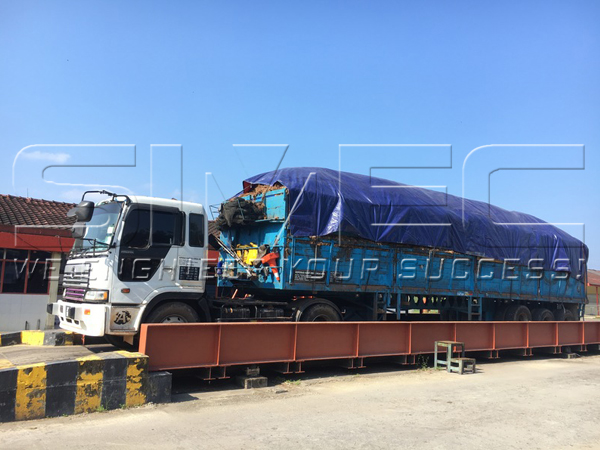 Palm EFB Fibers Transport
The improper size will increase the current load of pelletizer and influence forming and quality of pellets. And also their shredder whose size reduction performance and process capacity should be improved is from the same supplier with another project in Thailand. Actually it's wrong technology as analysed in another report.
(
http://www.simecpellet.com/blog/palm_efb_chopping_machine_running_in_thailand.html
).
Generally speaking, high power consumption and thermal loss push up the running costs of the entire plant. And improper processes and technology of equipment reduce the production output and lower the pellet quality. As a result of above factors, pellet production output of this plant stays below BEP (Break-Even Point) for a long time. Obviously, it's very important in choosing suitable process and equipment at the design stage. Most of all, choosing a proper and experienced supplier is prior.
SIMEC is able to supply the suitable technology & machines to build palm EFB pellet plant. We have years of experience in building palm EFB utilization projects in oil palm industry. If there is any intention or technical questions of Palm EFB pellet plant, please feel free to contact us. Choose SIMEC means choosing success!
We Engineer Your Success!